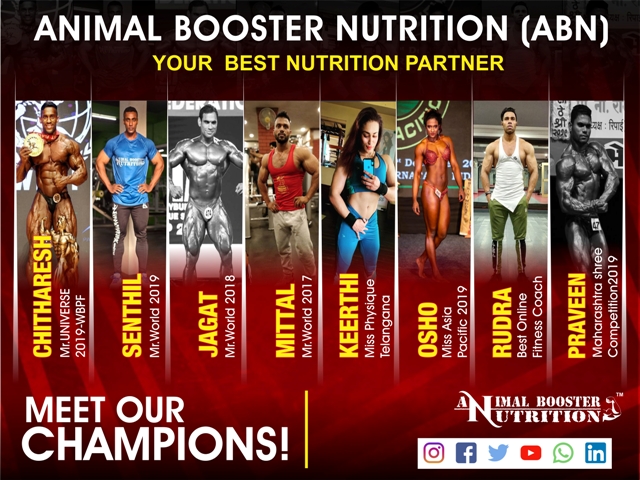 New Delhi Hindustan ab tak/Dinesh Bhardwaj :12 March Animal Booster Nutrition is one of the leading energy supplement brands in India and Abroad. The company established in 2008 aims to provide quality nutritional supplements to people who are fitness freaks. The supplements provided by Animal Booster Nutrition includes protein, weight gainer, fat burner, glucose, BCAA and Glutamine to carbo. The supplements manufactured under Animal Booster Nutrition are under the strict guidelines of FSSAI and the nutrients are present in the correct amount which is required for correct and health bodybuilding.
Animal Booster Nutrition is owned by Dr. Anuj Choudhary who is the director of the Indian Body Building Federation. Dr. Anuj Choudhary himself is a fitness freak and has guided many youngsters of the country to achieve various worldwide titles in various bodybuilding concepts. Some of the achievers who have taken guidance under Dr. Anuj Choudhary are Chitharesh Natesan who has won the title of Mr. Universe 2019 – WBPF and Mr. Asia 2019 – IBBF, ABBF, Mittal Singh who has won the title of Mr. World and Mr. Asia and is currently working as Certified Prep Coach, Jagat Kumar who has won the title of Mr. Asia 2018, Senthil Kumar who has won the title of Mr. INDIA, Sheru Classic 2013, Mr. Asia 2016 and Mr. World 2019, Rishi Rudra official athlete of Animal Booster Nutrition. Not only men but several women have attained some great titles worldwide like Osho  who won Miss Asia Pacific 2019, Miss Asia Bikini 2018, has also attained various tittles in Boxing  and was Miss Kerala and is a superb Dancer, Keerthi who was IBBF Athlete 2018 won title of Miss Physique Telangana is a Fitness Coach and is Brand Ambassador  of Animal Booster Nutrition.
Dr. Anuj Choudhary, Founder Animal Booster said;" I think teaching is a very noble profession and it becomes a blessing when you have great students who work hard and make their name internationally. All my students have done a great job in their fields and I feel proud that I am being known as their coach. I will be continuing as a coach will teach as many students as much as I can, not only for my personal fame but also for the name of our country."
Dr. Anuj Choudhary has recently been awarded with Yuva Atal Award and Great Visioners Award, 2020. He has not only guided students under various concepts of Body Building but also has established a brand that is giving them an appropriate amount of nutrients and which is improving his popularity not only in India but also abroad.
About Animal Booster
Animal Booster is an organic gym supplement brand that enhances nutrition. Where the world is full of artificial nutrition, Dr. Anuj Choudhary who is the former coach and a judge in Indian Body Building Federation (IBBF) believes to serve the purest supplement for its customers. Animal Booster supplements have no side effects because of their natural ingredient. It helps for burners, gainers and fitness enthusiasm. Animal Booster beat cheap and artificial supplements. They serve their best product by a website and by Amazon and by other popular apps. Currently, they are delighting their customers with massive discounts up to 25% and introductory offers of free goodies with the supplements.