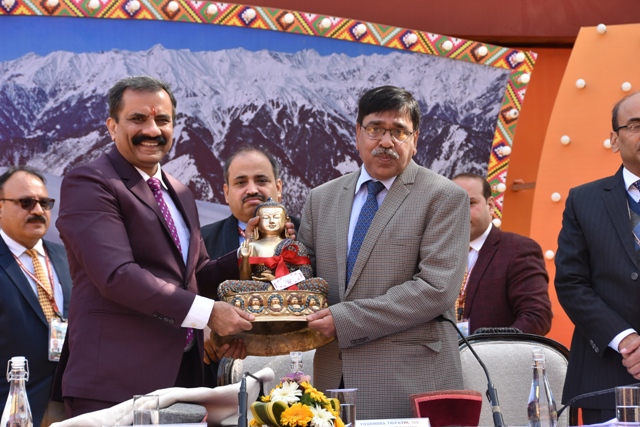 Faridabad Hindustan ab tak/Dinesh Bhardwaj : Addressing an assemblage of media persons at the Surajkund Mela Ground, Faridabad, Shri
Yogendra Tripathi, Secretary, Ministry of Tourism, Government of India stated that the 34
th
Surajkund International Crafts Mela-2020 will be inaugurated by Hon'ble President of India
Shri Ram Nath Kovind and Shri Satyadeo Narain Arya, Hon'ble Governor of Haryana will
preside over the inaugural ceremony on 1st February, 2020 at 11.00 am in the august presence
of Shri Manohar Lal, Hon'ble Chief Minister, Haryana, Shri Jai Ram Thakur, Hon'ble Chief
Minister, Himachal Pradesh, Shri. kanwar Pal, Hon'ble Tourism Minister, Haryana and His
Excellency Mr. Farhod Arziev, Ambassador Extraordinary and Plenipotentiary of the Republic
of Uzbekistan Embassy. Also present at the occasion will be Shri Randhir Gollen, Chairman,
Haryana Tourism Corporation, Smt. Seema Trikha, M.L.A, Badkhal, Shri. Krishan Pal Gurjar,
Minister of State for Social justice and Empowerment, Government of India and Shri. Mool
Chand Sharma, Transport Minister, Haryana along with many other dignitaries who will grace
the occasion.
The Surajkund Crafts Mela was hosted for the first time in 1987 to showcase richness
and diversity of the handicrafts, handlooms and the cultural heritage of India. Jointly hosted
by the Surajkund Mela Authority and Haryana Tourism in collaboration with the Union
Ministries of Tourism, Textiles, Culture, External Affairs and Government of Haryana, this
festival has come to occupy a place of pride and prominence on the international tourism
calendar for its display of crafts, culture & cuisine of India in aesthetically created ambience.
Shri Yogendra Tripathi, further stated this crafts fair helps thousands of craftsperson
from across India to showcase their art and products to a wider audience. Thus, the Mela has
also helped in reviving the heritage crafts of India. Keeping in pace with the times, online
tickets are made available through portals like www.bookmyshow.com, to help visitors easily
Page 2
enter mela premises without the hassles of long queues. Special buses will run from various
points to carry visitors from the surrounding areas to the fair site.
A benchmark was set in the history of Surajkund Crafts Mela as it was upgraded to an
international level in 2013. In 2019, more than 30 countries from Europe, Africa and Asia
participated in the Mela.
Shri Yogendra Tripathi, further stated that this year through a MoU signed between
Surajkund Mela Authority and The British Council, the mela will host artists and craftsmen
from England for the first time. Besides that more than 30 countries will be a part of the Mela,
which includes the Partner Nation – Uzbekistan. There will be enthusiastic participation from
Afghanistan, Armenia, Bangladesh, Bhutan, Egypt, Ethiopia, Ghana, Kazakhstan, Malawi,
Namibia, Nepal, Russia, South Africa, Sri Lanka, Sudan, Swaziland, Syria, Tajikistan,
Thailand, Tunisia, Turkey, Uganda, United Kingdom, , Vietnam and Zimbabwe.
Himachal Pradesh is the 'Theme State' of the 34
th Surajkund International Crafts Mela
2020, which is showcasing its unique culture and rich heritage through various art forms and
handicrafts from the state. Hundreds of artistes from Himachal Pradesh will be performing
different folk arts and dances. From traditional dances art forms to exquisite crafts, there is a
bouquet of heritage and culture from Himachal Pradesh to enthrall the audience. Also a replica
of 'Bhima Kali Temple', 'Ram Bagh' and the already existing 'Maheshwar Devta Temple',
promises to be the main attraction of this year's Mela.
To enliven the visitors' mood, scintillating performances will be presented by
international folk artistes from Afghanistan, Armenia, Bangladesh, Bhutan, Egypt, Ethiopia,
Ghana, Kazakhstan, Malawi, Namibia, Nepal, Russia, South Africa, Sri Lanka, Sudan,
Swaziland, Syria, Tajikistan, Thailand, Tunisia, Turkey, Uganda, United Kingdom,
Uzbekistan, Vietnam and Zimbabwe.
A variety of day performers will enthral the visitors like at the Been Party, Nagara
Party, Kachhi Ghori from Rajasthan, Mayur Dance , Brij ki Holi , Puppet Show, Magic Show,
Live Demonstration of Hath Ki Chakki and the ever famous Behrupiyas, who will keep the
crowds entertained with their enchanting talent and showmanship within the Mela ground.
Enthralling evening cultural performances during the Mela fortnight will entertain the
visitors to the hilt. Enjoy rib-tickling Hasya Kavi Sammelan by renowned poets, resonating
Ghazals, dance performances, soulful sufi performances, melodious Bollywood numbers by
various artists, besides adrenaline-rushing dance & song shows of Himachal Pradesh, Partner
Nation and other international artists. Catch all the action and excitement at the Chaupal from
6.00 pm onwards.
Page 3
Shri Vijai Vardhan, Additional Chief Secretary , Tourism, Haryana stated the Mela
ground is spread over 43.5 acres of land and houses over 1000 work huts for craftspersons
and a multi-cuisine Food Court, which is immensely popular with visitors. This year, visitors
can relish mouth-watering cuisines including authentic flavours of Himachal Pradesh,
Haryana, sumptuous Mughlai, subtle aromas of the South and oriental flavours of Chinese
along with Indian street food and other state specialities at the Food Court. Also, state-owned
Institutes of Hotel Management of Faridabad and Panipat would dish out various ethnic
delicacies.
He further added that 'the Surajkund Mela is now a tourist event with immense
popularity overseas. With England participating in this edition, we will now see more and
more participation from countries from across the far reaches of the globe'
A family from Haryana is going to live in specially-created 'Apna Ghar' to showcase
the authentic lifestyle of the state. 'Apna Ghar' gives a chance to the visitors to experience the
lifestyle of the people of the state and also provides them a chance to interact and learn about
their culture. Apna ghar will showcase traditional earthenware, utensils etc and craftsmen will
give live demonstration of these traditional crafts.
Both Chaupals (amphitheatres) have been imparted a folk theatre look with pillars
adorned with masks and decorative ceilings. Ethnic, traditional &sustainable material has been
brought into use to design elements such as bamboo for gates & pole lights; cane & metal
tokris as diyas and standing lights, fabric for buntings, kites and other props.
The Mela is open from 1
st to 16
th February, 2020, daily from 10.30 am-8.30 pm.
Major highlights of the 34
rd Surajkund International Crafts Mela-2020
• England will participate for the first time in the Surajkund International Crafts mela,
through a MoU Signed by Surajkund Mela Authority and The British Council.
• Keeping pace with the Information Technology (IT) advancements, the Mela entry
tickets can be booked online on www.bookmyshow.com
• The girl students of government and government-aided Schools will be given free entry
to the Mela on weekdays, as a part of 'Beti Bachao Beti Padhao' campaign of Haryana
government. Government School Children in their school uniform accompanied by their
teacher will be given free entry. Also War widows and Freedom fighters will be given
free entry with valid ID proof.
• As a corporate social responsibility initiative, the Surajkund Mela Authority provides
50% rebate on the entry tickets to the differently-abled persons, senior citizens and
serving defense personnel and ex- servicemen.
Page 4
• To encourage youth participation, a discount of 50% on entry tickets is being given to
college students on weekdays on the production of valid ID cards.
• Theme State – Himachal Pradesh will present a light and Sound Show every evening
during the Mela.
• Renovated 'Apna Ghar' of Haryana will enthrall visitors in a new avatar.
• On 2
nd, 7th and 9th February, A Fashion Show directed by Ritu Beri will be organised,
showcasing the splendour of the Himachal Pradesh and Uzbekistan's and tribal
handlooms and weaving styles.
• A special amusement zone with swings and rides has been created for wholesome family
entertainment.
• A number of competitions to be organised for school students.
• Exporters and Buyers Meet is organised during the Mela fortnight that offers a ready
support system for craftspersons to access and tap the export market.
• To beef up security arrangements, CCTV Cameras have been installed in the Mela
ground along with the Night Vision Cameras. A large number of security personnel,
including women guards, are deployed in the Mela premises to prevent the occurrence
of any untoward incident or mishap.
• Fire Brigade team and medical teams will be available for any emergency throughout
the Mela.
• Disaster Management Plan/ Evacuation Plan is in place with state-of-the-art medical,
fire and disaster management facilities at all crucial points.
• Bank, dispensary, Mela police control room & CCTV control room are located at a
centralized location so that visitors and participants can have easy access to these
essential services.
• Improved facilities for the differently-abled persons.
• A complete ban is imposed on the plastic/polythene bags within the Mela premises.
History of Surajkund
Surajkund derives its name from the ancient amphitheatre Sunpool constructed
here in the 10th century AD by Raja Suraj Pal, one of the Tomar chieftains. This is a unique
monument as it was built to worship "Surya" the Sun God and it resembles a Greek
amphitheatre. The Mela is indeed a tribute to the richness and diversity of the cultural
heritage of India, organised in the backdrop of this magnificent monument.