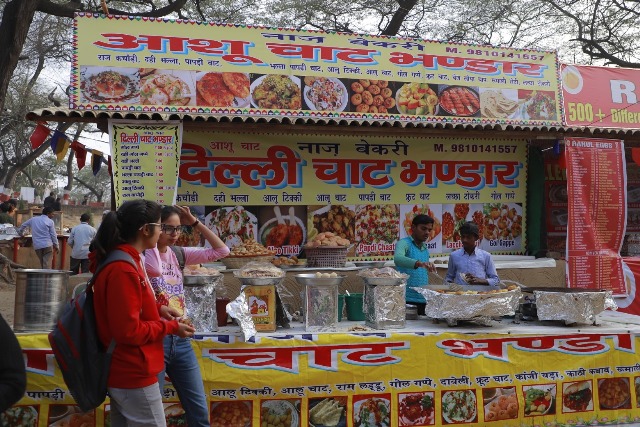 Faridabad Hindustan ab tak/Dinesh Bhardwaj : There is something for everyone at the 34th Edition of the Surajkund international Crafts mela. People are making a beeline for what defines Surajkund for them. Visitors are shopping for handicrafts be it fabrics, handmade decorations to paintings, others are queuing up to witness enthralling cultural performances throughout the day at the chaupal or the amphitheatre, while there is a plethora of food lovers vying to grab the special delectable treats that the mela is offering.
Discover special centres offering the most unique delicacies which leave every food aficionado wanting for more.  For the lip-smacking snacks the stall – Ashu Chaat Bhandar – is offering dahi bhalla, Raj Kachori, Papdi Chat, Lachcha Tokri and mouth watering Gol Gappe. The best of Indian street delicacies is at this very stall.
Yet another unique treat is being offered by Rahul eggs dishing out different varieties of egg preparations. The Chef here says that we will redefine how people eat eggs. There is water omelette, special egg tikka, paneer cheese omelette, egg dosa and for those who are diet conscious there is a special fat free omelette that will delight your taste buds.
From the land of the royals comes the Rajasthan Stall offering unmistakably delectable choorma laddu , daal baati , pyaz kachori, moong daal pakodi and much more. For those looking for some authentic cuisines from the land of the sands, there are numerous stalls offering real Rajasthani flavours.
For those looking for more hearty exotic delicacies Mughlai Sheermal is another delicacy of the erstwhile royal era. Try these sumptuous breads in various forms and relive the experience of fine dining of the royal era.
Uzbekistan too has a special stall offering delicious traditional cuisines that brings alive Central Asia on a palette. From Pialf or Pulao to Shurpa or Shorba, these veg and non Vegetarian delicacies are being loved by visitors. To try something unique and exotic the Uzbekistan food stall is a must visit.
Results of competition for 11th February 2020
Mehndi Competitions (Seniors)
First: Yelina made by Archita – Modern B.P. School, Sector 23, Faridabad.
Second : Muskan made by Megha, Modern B.P. School, Sector 23, Faridabad
Third: (i) Sneha kant (Self made), tarun Niketan Public School, Sector 23, Faridabad.
(ii) Asha by jasmine , K.L. Mehta Dayanan Public School, 2M/25, NIT, Faridabad.
Consolation
Kanchan by Sonia, Govt. Girls, Sr. Secondary School (Model) Old Faridabad.
Pawanjot kaur made by Bhawna, Modern B.P. School, Sector 23, Faridabad