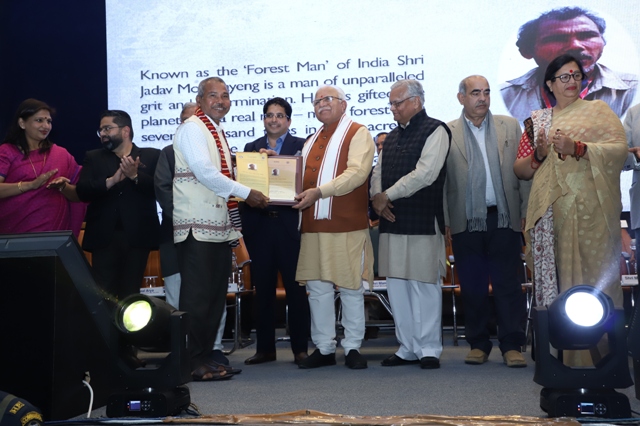 Faridabad Hindustan ab tak/Dinesh Bhardwaj :1 February The Honourable Chief Minister of Haryana Sh. Manohar Lal Khattar encouraged the wide galaxy of scientists, researchers, students, environmentalists and entrepreneurs at the second day of the International Conference on 'Environmental Challenges and Solutions' being organized jointly by Manav Rachna International Institute of Research and Studies (MRIIRS), ShikshaSanskritiUtthanNyaas (SSUN) and the Dakshina Foundation.
The event saw the esteemed presence of Dr. Pankaj Mittal, Secretary General, AIU; Sh. Yashpal Yadav, DC, Faridabad; Transport Minister Sh. Moolchand Sharma; Smt. Seema Trikha; Sh. Narendra Gupta; District President BJP Sh. Gopal Sharma; Sh. Ajay Gaur; Dr. Prashant Bhalla, President, Manav Rachna Educational Institutions; Shri Atul Kothari, National Secretary, SSUN; Shri Gopal Arya, National Coordinator of Environment Activity, RSS; Shri Sanjay Swami, Environment Education, SSUN; Dr. Amit Bhalla, Vice President, MREI; SmtUpasna Aggarwal, Founder & Director, Dakshina Foundation; Dr. Alokdeep; Sh. H K Batra; Sh. Motilal Gupta and several other eminent industry leaders and dignitaries.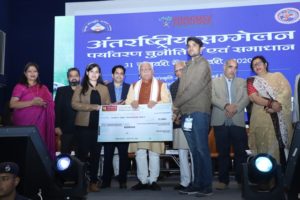 Addressing the audience, Sh. Manohar Lal said: "Using our resources judiciously to conserve them for future generations is the need of the hour and we need to work towards the solutions rather than the problems". Mentioning some of the initiatives of the Haryana Government, he reiterated, "There is a need to start public participation programs which involve common people at large scale. We need to understand that both environment and development are inter-twined and should be sustainable."
A total of 22 ideas and 30 projects were pitched at the Youth Jalsa organized during the conference. The projects showcased how waste is being used to benefit the environment. Some of the pitched projects included Smart Grid with Intelligent Power Use, Metal Sorter, Water Electro Coagulation System, Ground Water Recharge by Pervious Concrete, Digital Smart Green City, Waste Management Reuse- FLYASH, HOMEYZ, MOBILAB, and Smoke Absorber Purifier.
The top three projects have received cash prizes. Six best ideas were given seed money of Rs. 2.5 lac each (totalRs. 15 lac) from the New Gen IEDC project of Manav Rachna which is supported by DST, GoI.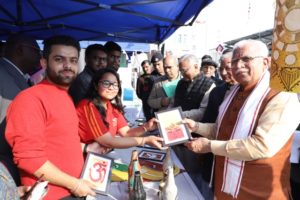 The Chief Minister bestowed 'Manav Rachna ParyavaranPragyanSamman' upon nine crusaders for environment:
Eco-Champion of the Planet: Narendra Aggarwal, CMD, Shivalik Prints
Environment Resilience Award: PramjitSanghavi, CMD, Varahi Ltd.
Public Involvement, Edu.&Env. issues: M C Mehta, Public Interest Attorney
Excellence in Env. Conservation & Protection: Sh. Rajender Singh, Waterman
Young Innovator of the Year: Pariyayantra
Green Person of the Year: JadavMolaiPayeng, Forest Man of India
Young Achiever Award: Ajeya Deep, Project Director, Action India
Dr.O P Bhalla Excellence Award: Indian Oil Corporation
Manav Rachna VisheshSamman: Bharat VikasParishad
Seed Funding of Rs. 2.5 lakh each was given to the following six ideas:
Farmbook Solutions Private Ltd.
Park In
Lee Koff
Smart Tee
Attaware Biodegradable Pvt. Ltd
Nanomaterial based portable water treatment system
Winning projects during Youth Jalsa:
First Prize (Rs. 51,000):                 Extractor Boat System by IASE University, Sardarshar
Second Prize (Rs. 31,000): Halestein Food Labs LLP, MRIIRS
Third Prize (Rs. 21,000): Mobilab by J C Bose University of Science & Technology