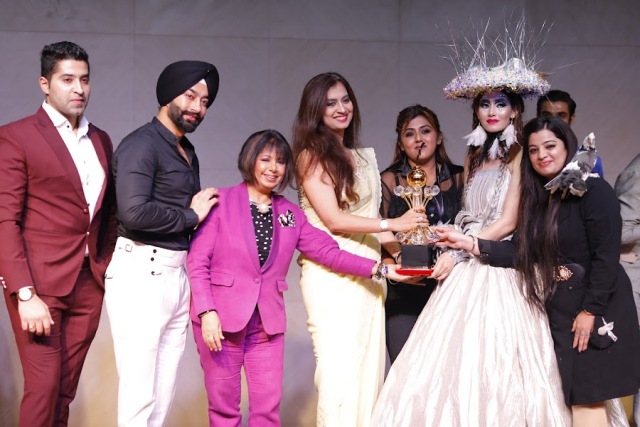 New Delhi Hindustan ab tak/Dinesh Bhardwaj : At an evening accompanied with glitterati and glamour, the FACE OFF Championship Season 6 presented by Star Salon Academy of Annie Munjal ( Director ) and Neena Singh ( Head Counsellor )celebrated the annual convocation of the students of Star Academy at PHD Chamber of Commerce and Industry ), New Delhi.
The jury for the event comprised renowned faces like Actor Aman Yatan Verma, Punjabi Movie Actor Kirandeep Rawat, Celebrity Nutritionist & Wellness Expert Dr. Varun Katyal, Designer Preeti Ghai and Mr. Manish Sahdev.
It was an evening of Imagination & transformation. Aashmeen Munjaal's Star Makeup and hair Academy students Branches were convocated and they presented extraordinary creations on-ramp. The models also portrayed the world of Wedding makeovers, Fantasy Makeovers & Hair designing. Faceoff Championship was witnessed by thousands of audiences & judged by pioneers of various Professions.
The Winners & Runners up were presented with Trophy by the esteemed panellists. Around 300 students of Star Makeup and hair Academy branches i.e South ex, Pitampura, Gurgoan, Ludhiana participated in various categories in the third season of the much-awaited FACEOFF CHAMPIONSHIP. Star Academy trains students in 3 months for a career full of immense potential.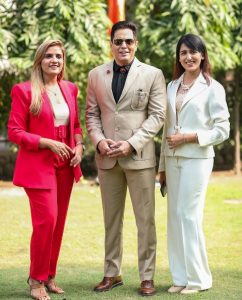 Every year a grand Graduation Day & FACEOFF CHAMPIONSHIP is held to encourage the students of Star Academy. The event witnessed the mélange of FASHION & TRADITION, makeover shows and ramp walk by the academy students. Stepping shoes for their new journey, freshers got a wider platform and exposure to showcase their skills and talent. The winners were awarded trophies and cash prizes.
Star Makeup & Hair Academy Director, Annie Munjal said, "Every year we introduce fresh talent in the event which accedes the audience to see more innovative and fresh looks. Our academy just acts as the helping hand for our students, whatever the looks are showcased are all the ideas of our students. The very first thing we teach our students is that don't follow fashion blindly.. make Your Own fashion statement and the second important thing we teach is that never chase money, just be True to your work and everything else will chase you back."
Head Counsellor  Neena Singh said, "We, at Star Hair and Makeup academy, let our students experiment with what they want, this helps them to pursue the profession with great interest and it also enhances the talent in them. That is the reason we came up with a new Gothic, Runway fashion, wedding and fantasy look this year. The future of this competition will embrace budding artists from the whole industry. I feel very enthusiastic and cheerful that I'm leading the team which hosts such magical events of makeovers."
About Star Salon and Academy
Aashmeen, an established name in the field of Makeovers, had started her career in 1996 with a finesse touch. In Delhi, with a basic start, she went to Bombay for advanced training. Then for a year, she gained experience by working with top national and international professionals. Then she went to the London School of makeup for an advanced course in makeup skills. After doing an internship with City & Guild, U.K, she polished her skills with the best of Europe's makeup experts like Naveeda, Joshiv and Jawaad which gave her Indian skills an international flavour. In 2002, an advanced crash course in Media and model makeup by French makeup artist Waler Scherdem was the icing on the cake of artistry. Now, she is the name to reckon with top Bollywood makeover associations, skin consultancy, and hairstyling expertise.