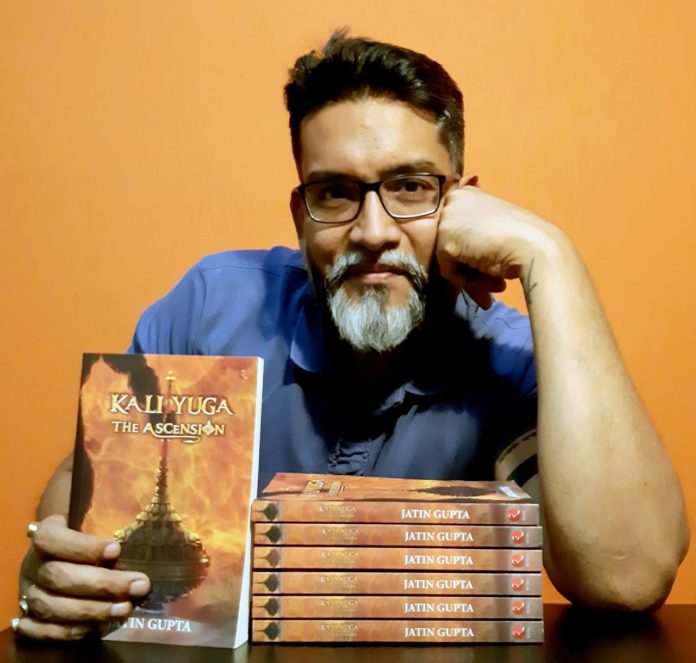 New delhi Hindustan ab tak/Dinesh Bhardwaj  : You really don't need a big bang release to make it to the bestsellers! If it's an enticing and inviting book, it will get off the shelves by its own merit! That's what any upcoming writer can learn from author of the current popular read Kali Yuga: The Ascension, Jatin Gupta! In a candid Q & A session, the author spoke about his recent fiction release, how he switched from non fiction to fiction and lots more, excerpts below:
Despite not having a mega launch event, the book is selling like hot cakes. Did you anticipate this kind of response?
We sold 2500 copies of Kali Yuga in one month and honestly, that's no small feat. That too when it was a year end release; the time when people are mostly holidaying or busy with families, this book did the numbers. Was I expecting the response? Frankly, Yes, while I was developing this story the book turned out to be nothing like I have ever read before and everytime I read it I got goosebumps. That made me feel we have something special in hand.
The Motion Posters of the book have seen a sensational response. How did this happen?
We wanted to approach the book differently and once it was in the publishing process, we took a bold decision to give a visual dimension to many of the characters and scenes of the book. We used these sketches and converted them into 8 motion posters and the trailer for the book. Interestingly the visuals generated a fantastic traction leading to close to 2 million+ views, 2500 shares and 25000 reactions across Facebook and Instagram combined.
What is Kali Yuga about?
So Kali Yuga: The Ascension as the name suggests is about Kali Yuga. It is a fantastical take imagined on what Kali Yuga holds for us and how will it happen. It is about how 5 out-cast clans guided by the Immortal Guru Parshuram will come together and usher the many changes in store.
The story unlike many other stories is not exactly mythology, the underlying arch is inclined towards fantasy with very few elements from Mythology.
From debuting as an author with Non Fiction to the recent fiction release, was the transition easy? What was the difference in writing both?
Self help and management books are fact based there is very little scope with playing around with the basics of a concept or a premise. This however is not the case with fiction, it is an infinite canvas where the limiting factor is the distance till your imagination can go. Personally, I love writing fiction as I can virtually construct worlds in my mind, how ever I have realized that I can easily switch genres and that is may be because of the professional background I have.
When not writing books, what is it that you do?
I am a management professional presently working with a global gaming company named GVC. Prior to this I was working with an asset management company called Invesco. However predominant part of my professional life was spent with Deloitte in space of management consulting and marketing.
Would we see this book take the shape of a movie?
Honestly, a lot of people in the book circle have told me this is perfect material for a movie, the presentation is such. But I've mounted the book on a large scale and the movie too will have to live up to that to do justice to the story. I'd love to see a big shot filmmaker reach out to me for this book though! (laughs)