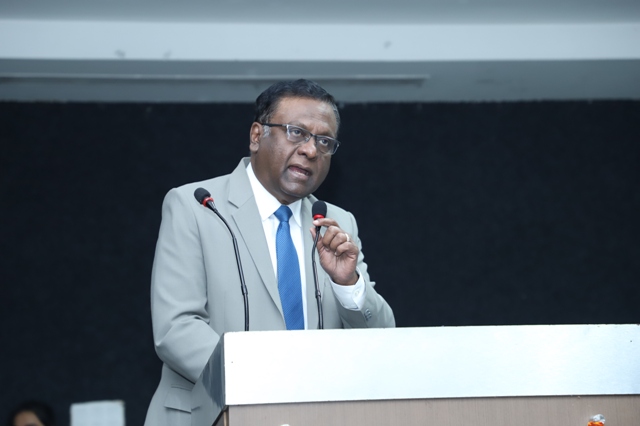 Faridabad Hindustan ab tak/Dinesh Bhardwaj : 25 February Faculty of Management Studies (FMS), Manav Rachna International Institute of Research and Studies (MRIIRS) organized a two-day 'MRCON 2020: Conference on Building Sustainable Competitive Edge' at its campus on February 24 & 25.
The inaugural session of the conference was presided over by Mr. P. Dwarakanath, Director, Group Human Capital,Max India as the Guest of Honour. Also present were Padma Shri Dr. Pritam Singh, Honorary DG-MREI; Dr. SubirVerma, Professor, FORE School of Management; Dr. Sanjay Srivastava, VC-MRIIRS; Dr. DeeptiDabas, Director, FMS; Dr. Hari Arora, Dean FMS & FCBS, MRIIRS; Dr. Nand Lal Dhamija, Senior Faculty, FMS; faculty members of the department, participants and students.
The conference was an earnest effort to bring together eminent practitioners, policymakers from industry, academia and the Government to discuss the ideas and debate on the theme.Mr. P. Dwarakanath said that in this VUCA world, some changes can be predicted while some cannot. He gavereference of book like "In search of excellence" which told best practices in American Economyin the 1980's. He elaborated majorly on the fact that what was true yesterday may not hold truetomorrow. He said that even yesterday's competitors may not exist today. People, Culture, Innovation and leadership are important for Sustainable CompetitiveEdge (SCE) and to achieve SCE, one need to take risks, walk as a team and anticipate future.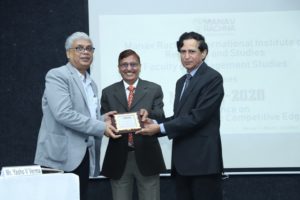 Prof SubirVerma in his keynote address said that in order to become 5 trillion dollar economy, India needs togrow at 9% rate which is not possible as of now and that India's position on various indexes are
Negative and questions India's survival. He closed his speech by saying that companies innovate for battle of sustainability whereas startups innovate for battle ofdisruption.
These were followed by technical sessions on Sustainable Development; Customer Leadership; and Culture and Ethical Governance. A number of papers on various topics related to the themes were presented duringthese sessions.
Valedictory Session of MRCON 2020 was held in the esteemed presence of Mr. Yasho V Verma, Management Consultant Business and Strategy, senior members from Manav Rachna, faculty members and students.
Talking about the current scenario of businesses, Mr. Yasho V Verma began his address by saying, 'If the business now-a-days is shortlived, so is the longevity of employees. The bar of excellence and performance is getting raised everyday'. Quoting few examples from the industry, he said, 'Legal-illegal and ethical-unethical are now guided by the technology and this is one the challenges technology is posing'.
Dr. NC Wadhwa, DG-MREI talked about how business can flourish and attain a sustainable competitive edge.
The two-day conference was attended by almost 90 participants. A total of 64 research papers were submitted, and 53 papers were presented during the technical sessions. Papers were received from various institutes and universities including IIM Kashipur, Amity University, Sri Balaji University, Pune; JIMS Kalkaji; HR Talent Hub; University of Mexico, Gurugram University, Delhi Technical University, Jamia Millia Islamia University, Lingayas University and more.