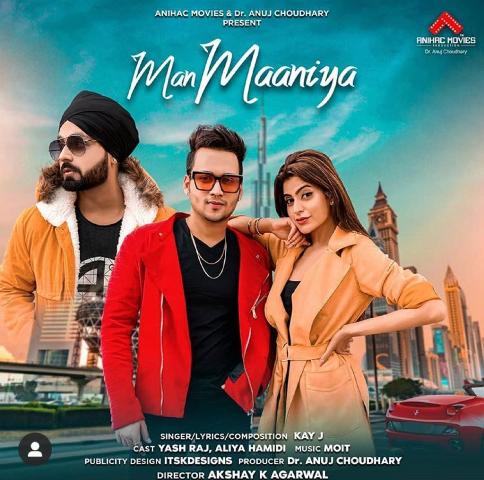 New Delhi Hindustan ab tak/Dinesh Bhardwaj :12 May The Covid19 pandemic is turning out to be disastrous for the Entertainment industry which will surely be going to have after-effects on media and entertainment. Film's release, shooting, theatres, entertainment events, and promotions are stuck right now and witnessing dramatic fall with social distancing norms. Many actors and actresses are working hard in keeping their social media audience by entertaining them in various ways. Now everything is turned on digital platforms. But, the music industry had closely tied it up all with the people. Bollywood super singers are coming up with new interesting party songs on the current situation of covid19 that they are recording and editing in their homes.
To keep people enthralled and entertained, Anihac Movies is going to launch their first Romantic Punjabi song "Man Maaniya" sung by Kay J and directed by Akshay K Agarwal. The starring cast of this song is Yash Raj and Aliya Hamidi (Tiktok fame). Yash Raj is a model, actor, and also businessmen who have worked in several commercials and short films in the past whereas the lead female actress is a very famous Tik Tok Star and has also done some music videos. Anihac Movies is a production company launched by Dr. Anuj Choudhary who is also the producer of song Man Maaniya. He also retains a dietary supplements brand name Animal Booster Nutrition and Anihac Pharma. Man Maaniya is a Punjabi song that was originally shot in Dubai, UAE. Kay J Batra is the singer of this song and the music is given by Mohit Sharma. The song will be soon released on the YouTube channel and other Music platforms.
Dr. Anuj Chaudhary, Founder of Anihac Movies said, "As the founder of Anihac Movies, I am feeling very happy and delighted to announce that our first song "Man Maaniya" is going to be released in the last week of May 2020. I am honoured and glad that I have worked with Kay J Batra, he's a brilliant artist and a very great singer. I am also thankful for our star cast in this song, Yash Raj and Aliya Hamidi who are the face of our song. They have both done incredible work and gave their best to it. This song is going to be one of the hit Punjabi tracks. Thank you for all the support of our team. I hope people will give immense love to Man Maaniya."
About Anihac Movies 
Anihac Movies is the new business venture launched in the year 2020 founded by Dr. Anuj Choudhary. He is also managing his health care brand Animal Booster Nutrition and Anihac Pharma. Anihac movies are going to launch their first song and will be announcing the dates in the last week of May 2020.