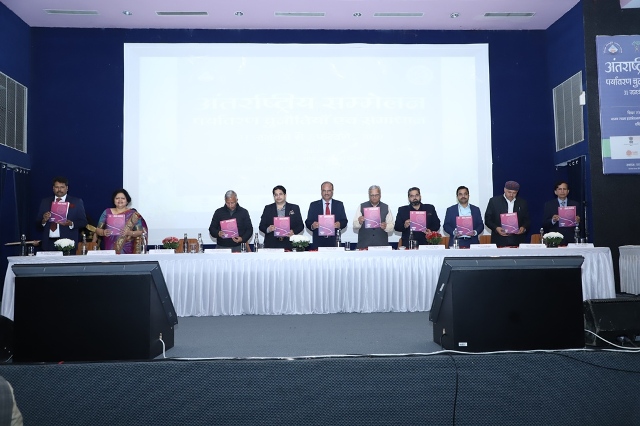 Faridabad Hindustan ab tak/Dinesh Bhardwaj : 31 January The three-day long international conference on 'Environment Challenges and Solutions' being organized jointly by Manav Rachna International Institute of Research and Studies (MRIIRS), ShikshaSanskritiUtthanNyaas (SSUN) and Dakshina Foundation was inaugurated today in the presence of thousands of enthusiastic students, researchers, scientists, international delegates, entrepreneurs and heads of various institutions.
The inaugural event saw the esteemed presence of the Chief Guest Shri G C Pati, Chairman, CGWB, GoI; Shri Atul Kothari, National Secretary, SSUN; Dr. Prashant Bhalla, President, Manav Rachna Educational Institutions; Shri Gopal Arya, National Coordinator of Environment Activity, RashtriyaSwayamsewakSangh; Dr G V R Reddy, Scientist, DST, GoI; Shri Sanjay Swami, Environment Education, SSUN; Dr. SSV Ramakumar, Director IOCL, R&D, Faridabad; Dr. Amit Bhalla, Vice President, MREI; SmtUpasna Aggarwal, Founder & Director, Dakshina Foundation; Dr. Alokdeep; Dr. Sanjay Srivastava, VC, MRIIRS; Dr N C Wadhwa, DG, MREI and several other eminent scholars.
Shri Atul Kothari while appreciating the crusading role of Manav Rachna for the protection of the environment said: "If universities have to truly understand their role, they must follow what Manav Rachna has been doing because it is only when environment consciousness is woven into the education system can we expect long-term solutions".
Mr. S S V Ramakumarenthused confidence that good start-up ideas by students will be supported by the Indian Oil Corporation. He reiterated that no single solution can solve environmental challenges and therefore more and more ideas must be floated and tested.
As the Chairman of the Central Ground Water Board, the Chief Guest Mr. G C Pati stressed upon the urgent interventions needed to address the country's depleting water levels.
The souvenir of the Dakshina Foundation was released on the occasion.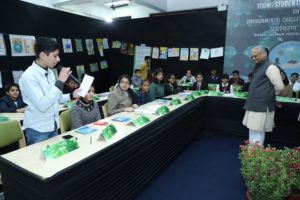 The first-of-its-kind 'Environment Parliament'witnessed students emulating the roles of various stakeholders such as educationists, environmentalists, policymakers, industrialists, rag pickers, social workers, common man, among others to arrive at solutions to protect the environment. With great enthusiasm presenting rational opinions and solutions, Grade VI-IX students from various private and government schools of Delhi-NCR and NGOs deliberated upon three themes based on environmental challenges: Local, Regional and Global Scale; Biodiversity Conservation, Ecosystem Services and Livelihood; and Solid Waste Management, Sanitation and Hygiene.
A grand exhibition on 'PanchMahabhootas' is on display in a mini SurajkundMela set-up. The exhibition had the works of organizations, individuals and artisans working on the five elements at the grass root level. From miniature paintings made out of waste material to hand-woven fabrics; from artifacts from waste to sustainable solutions; the exhibition presents some very simple yet unique initiatives that can be adopted in our day-to-day life.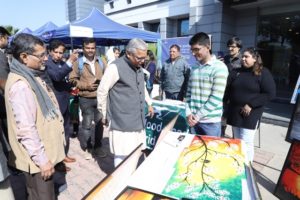 More than 50 schools of Delhi-NCR also participated and submitted entries for the exhibition and the shortlisted entries were displayed at the exhibition.
Technical sessions on seven themes and 32 sub-themes are being organized during the three days. The second day of the conference shall be presided over by the Hon'ble Chief Minister of Haryana Sh. Manohar Lal Khattar. The second day will have a Youth Jalsa where the best ideas will be awarded prizes worth Rs. 15 lac. The Honourable Chief Minister shall also bestow environment crusaders with environment excellence awards.