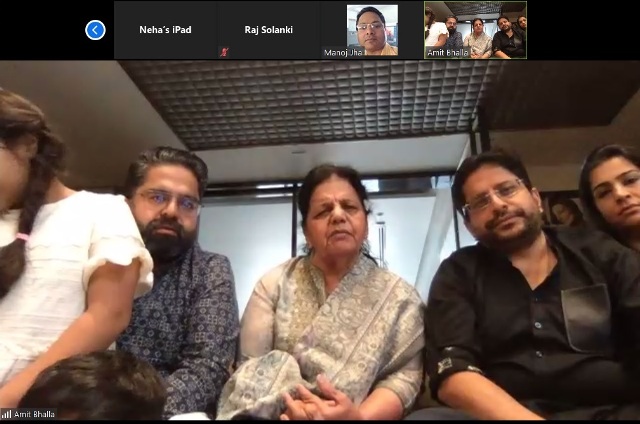 Faridabad Hindustan ab tak/Dinesh Bhardwaj : More than 400 staff members of Manav Rachna along with their families participated in an online Bhajan Ceremony today to pay homage to our Founder Visionary Dr. O P Bhalla on his 73rd birth anniversary which also marks the 7th Founders' day of Manav Rachna Educational Institutions (MREI).
This vast online gathering is testimonial to the resolve of the Manav Rachna family that stands committed to making a difference in the lives of communities. While urging all members to remain safe in their homes; Smt. Satya Bhalla, Chief Patron, MREI said: "This unprecedented moment will definitely go down in history as a test of our resilience, courage and adaptability".
Dr. Prashant Bhalla, President- MREI and Dr. Amit Bhalla, VP-MREI thanked members of the Manav Rachna family for their contribution in ensuring that 'learning' across our campuses does not come under a 'lockdown'.  It is noteworthy, that with the utmost dedication of our teaching and administrative members; classes all schools and higher learning campuses of Manav Rachna have moved to online platforms.
Carrying forward the rich legacy of the Founder Visionary, MREI today contributed one day's salary of all teaching and non-teaching staff towards the Haryana Chief Minister's Relief Fund. Under the aegis of Dr. O P Bhalla Foundation, MREI has been supporting the District Administration of Faridabad through the 'Ek Mutthi Daan' campaign benefiting people who have been rendered homeless because of the sudden lockdown. Behavioral and social science experts from Manav Rachna have been providing online counseling and hand-holding sessions. To keep motivation levels high, trainers and experts at the Manav Rachna Sports Science Centre have been running regular online tips for communities on physical health, yoga and meditation.
On this day and forever, Manav Rachna family bows down with gratitude to the man who imbibed in us the spirit of emerging stronger in tough times.