Faridabad Hindustan ab tak/Dinesh Bhardwaj : 7 March A two-day National Film Festival Prakrati, 2020 was organized by the Faculty of Media Studies and Humanites (FMeH), MRIIRS and Dr. O.P Bhalla Foundation in association with the Haryana Women Welfare Association on March 6th-7th, 2020.The inaugural session was attended by Dr Rajesh Singh, Vice Chancellor of Purnea University; Col S SSarangdevot, Vice Chancellor of JRNR Vidyapeeth, Udaipur;Dr. Alokdeep, President of Haryana Women Welfare Association;social activists- Ajay Singh and Ajeyadeep; Dr. Maithili Ganjoo, Director, FMeH; Dr. Chavvi Bhargava, Dean, FMeH and Heads of Department- MrManojRaut and DrShivaniVashisht.
The festival received a total of 30 entries from leading universities including Amity University, SGT University, Chandigarh University, BanasthaliVidyapeeth, IMS Noida and Mangalayatan University.There were two special entries from the Chittagong University, Bangladesh and the Ministry of Higher Education, Oman, as well.
Speaking on the occasion, Dr. NC Wadhwa, Director General, MREI said, "Empowerment means equity and equality for all genders while we say that equal rights for women are enshrined in our Constitution but there is clear disparity at the ground level. To restore real parity, efforts have to begin from home."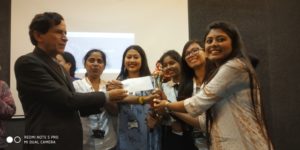 Entries were solicited for Documentary, Short Film and Animation Film categories. A jury of eminent personalities comprising social activist Sabrina Lall; Creative Director Ajay Bisht;Film Actor Bhanujeet; Mr. Nalin Singh, Director, NRAI, School of Mass Communication and RonyKaula, ace fashion photographer and Cine Director, College of Art.
In the Short Film category, the entry from Adamas University, "Pronoyani", based on transgenders, bagged the First and the Second prize went to "Red" based on menstruation as a taboo, from SGT University. A film made by BAJMC students of MRIIRS, "Pehchaan" on domestic violence won the third prize.
In the Documentary segment, the first prize was taken by Amity University students for their film "Steering the Freedom" based on the life-story of a woman Uber driver, and the second position was held by students of the SGT University for "Pushpa" which was a film about a woman farmer's struggles. A Ph.D. scholar Mihika from MRIIRS won the third prize for her film "Panchkanya" which depicted women as the five elements of Nature. Two films "Bodhon- The Awakening" and "Kick like a Girl" were given special mentions.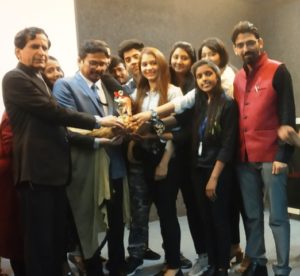 Addressing the gathering, DrChhavi Bhargava Sharma, Secretary and Trustee- Dr OP Bhalla Foundation; and ED & Dean, FBSS and Dean, FMeHsaid,"Empowerment means equity and equality for all genders…and the journey of a woman is all about her trials and tribulations of becoming empowered and empowering others."
Mr. Bhanujeet, while interacting with the students, said that today's youth is much more aware about the gender issues, their complexities and do not hesitate to raise their voice on self-dignity and breaking the stereotypes.
The two-day film festival brought various issues to the limelight and gave a glistening opportunity to students to express them on an international platform.