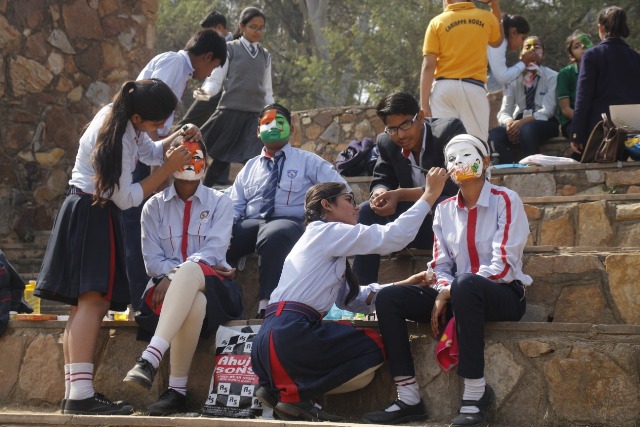 Faridabad Hindustan ab tak/Dinesh Bhardwaj : Many traditional crafts thought to be slowly fading away in the modern era are making a comeback and Surajkund International crafts mela is the right platform for such arts to make a mark again. Many traditional materials are now being preferred again owning to the quality, craftsmanship and for being eco friendly.
Many decoration and decor items are popular for their timelessness and simplicity and one such beautiful craft is being offered by Mr. Ajay Kumar from Delhi. He has brought the most delicate and exquisite decoration items made of crystal Glass. The most detailed animals, birds and other nature related motifs in miniature form are attracting visitors in numbers.  These glass decorations have the minutest details, splendid colours and make for essential collectibles. Modestly priced and regal to look at these crystal show pieces are worth exploring.
Jute is an essential material in Indian culture and it has stood the test of time. Bhagwan Singh Bisht and his daughter are representing the National Jute Board and have been taken by surprise with the overwhelming response by the tourists and visitors.
His handmade jute products range from mats, carpets, baskets to purses. Each in their very own way manifest aesthetics and pure craftsmanship. The subtle earthy colours and the minimalistic design approach make them a must buy for anyone with a taste for finer things.
Bhagwan Singh claims that not only do the products look good but they will last for years to come. All his products are a result of skilled craftsmanship and executed with finesse. Discover huge range of daris, carpets, wall hangings, baskets and purses and make a new style statement.
The entertainment of the yester years called the Kathputli or the puppets from Rajashtan is also a centre of attraction for those who love collecting relics of sorts. The master puppeteer, Mr. Rathore says that this art has been passed down from seven generations and his father has taken this art of traditional puppet making to new heights.  The duo has performed for many famous personalities like Mrs. Pratibha Patil and Rajiv Gandhi and have even performed on Doordarshan for millions of viewers.
He further states that their puppet show tells folk stories of Amar Singh Rathore and Rani of Jhansi and are still loved by children. He not only entertains but is also a teacher of the art of puppet making and has been an active teacher through programs like Stambh in 2018 in Jaipur. For those who collect ethnic treasures the puppets here will surely add to the wealth of their collection.
SBI extends High- tech banking Facilities to the Surajkund Mela Visitors
SBI has opened an extension counter in 34th Surajkund International Crafts Mela  for the convenience of general public. The bank is operating their extension counter in the mega event for the last three years under the guidance of Shri Harsih Ahuja, Branch manager SBI, Mini Secretariat, Faridabad. Facilities for opening the accounts, receipt and payment of cash transactions are being extended to everyone.
5 mobile ATMs are also operating within the mela premise and huge rush has been observed on the SBI mobile ATMs.  Shri Vijouy Ronjan, Chief General Manager, SBI Delhi Circle and Shri Ajay Saxena, Regional Manager also visited the mela on Saturday the 8th of February, 2020.
The results for today's Face Painting Competition is as follows:
A total of 81 students participated for the competition at the old Natya Shala at Surajkund First Prize: Yelina made by Archita, Modern B.P. Public School, Sector 23, Faridabad.
Second Prize: Bashri made by Kavita, Government Girls Senior Secondary School, (Model) Old Faridabad.
Third Prize: Sumit by Abhimanyu, Modern B.P. Public School, Sector 23, Faridabad.
Consolation :
Priyanshu Tyagi, Vidya Sagar International School, Gharora, Tigaon, Faridabad.
Youvraj Made by Priyank Tyagi, Vidya Sagar International School, Gharora, Tigaon, Faridabad.
Shivani Sharma by Himanshi, Government Girls Senior Secondary School, (Model) Old Faridabad.