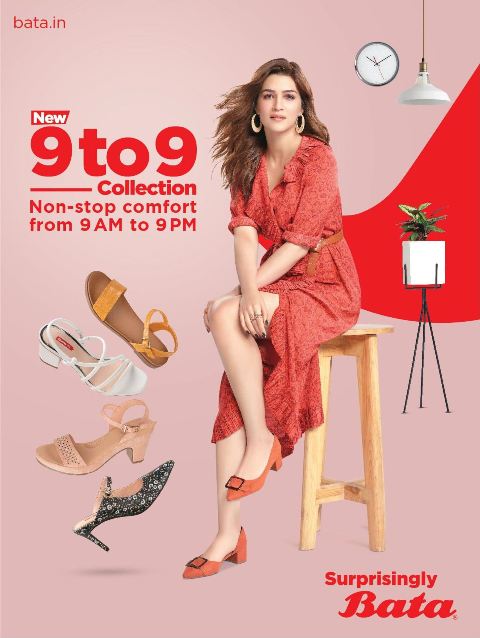 New Delhi Hindustan ab tak/Dinesh Bhardwaj : 4 March Bata India, India's leading footwear brand, has reaffirmed its commitment towards making women's lives easier with the inclusion of newer, more comfortable and chic designs in its much loved 9to9 range of footwear. The collection enables today's woman to live her life comfortably without compromising on the style quotient.
With over 40 million women expected to join the workforce over next 3-4 years, the need to cater to style and comfort is more than ever before. For the new-age woman, comfort is the be-all, but style is something she cannot afford to give up on. She is here to perform her best, conquer the world, and look fabulous while doing it!
The Bata 9to9 collection, with a versatile design range perfectly fits the bill during working hours and beyond. The collection includes products from Bata Comfit, Naturalizer, Hush Puppies and Bata contemporary styles. The TVC, featuring Kriti Sanon, showcases Kriti convincing her doctor friend how Bata's 9to9 collection offers non-stop comfort from 9 am to 9 pm.
Sandeep Kataria, Bata India's CEO said, "At Bata, customer centricity drives us and we are constantly innovating to provide our customers with the best of technology and ramp-walk trends. Women have always been and continue to remain a priority for us. With their hectic work and home schedules, working women are often on their toes, with a constant need to strike the right balance between comfort and style. Bata's 9to9 range is a response to women's evolving lifestyle and aims to ensure that they are comfortable in office and beyond while not compromising on the style quotient one bit."
As a brand, Bata remains committed to making life easier, wholesome and flexible for women at large. In pursuit of improving the overall quality of life for the working woman, Bata has partnered with brands like VLCC, Cult Fit, Purplle, upGrad, Soch, Easy Dinner Prime and O2 Spa to bring exciting offers, once they shop at Bata.
About BATA:
Bata has held a unique place in the hearts of Indians for more than 85 years. Probably the only footwear brand that offers footwear and accessories for the entire family, Bata has redefined the modern footwear industry in India. It has established a leadership position in the industry and is the most-trusted name in branded footwear. It sells more than 47 million pairs of footwear every year and serves 120,000-plus customers almost every day.
Bata India is the largest footwear retailer in India, offering footwear, accessories and bags across brands such as Bata, Hush Puppies, Naturalizer, Power, Marie Claire, Weinbrenner, North Star, Scholl, Bata Comfit and Bubblegummers, to name a few. It retails in more than 1,400 Bata stores, on bata.in and in thousands of multi-brand footwear dealer stores pan-India.