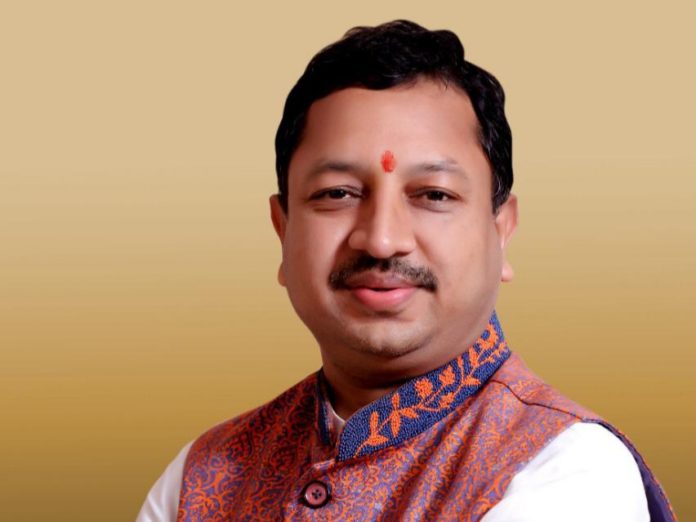 New Delhi Hindustan ab tak/Dinesh Bhardwaj :The desire for wealth and splendor is increasing day by day, but at the same time, to maintain a sense of selfless service is not less than a big challenge. In the time where there are people filled with greed, anxiety, and admiration, it is a great thing for an individual to be able to be there for the ones in need.
We all love to share our own incisions with others, but with time, the responsibility of sharing is left behind and is completely lost. There are thousands who are creating such mistakes but, there are few who are still working with the same attitude. Let us introduce you to one such person. Manoj Jain, the man who has ruled the hearts of many for its amazing work and service. Today we will let you know about him in detail.
Before letting you know about Manoj Jain in detail, we will like to share that his social and political life began at his own house. His father, Shri Mahesh Jain, had joined the national volunteer at the same time. Observing his father, Shri Manoj Jain also started becoming the same and took this work to a completely different level.
Born on February 23, 1969, in Delhi, Manoj Jain used to ask for votes loudly in a rickshaw for his respective political leaders, Today even while campaigning and putting posters, the desire to win still reflects on his face.
In the 2003 Delhi assembly elections, he participated in the contest as the youngest candidate of the BJP. Though he lost the  Mintorod assembly election while competing with Tartar Babbar but his life was calling him towards what he learned from his father about the importance of social responsibility. For many years, as he was not part of any political party, he was very much clear about the social work which needed attention. He left behind the political aspirations and was on a different path to make the most out of social responsibilities.
In 2013, he founded an NGO named 'Sahyog Delhi'. While stating the reason behind the name of cooperation, he says that we would like to choose a name taking inspiration from our Honorable Prime Minister Shri Narendra Modi. Then we came to know that Modi meant cooperation, so we did choose this name for our series. In this way, an NGO named 'Sahyog Delhi' came into existence.
On the left side of the NGO letter pad, 'Sahyog Modi' is written, and just below it, you will find 'An idea of ​​Sahyog Delhi' written in English. The bottom part of the letter head contains the name of the NGO and the rest of its relevant information.
When 'Sahyog Delhi' took over, Manoj Jain made sure that his help is reaching the needless people at every corner. Their time and resources were always ready for these tasks. In the name of the NGO "Sahyog", his objective was to help people rather than getting any kind of assistance. In the last seven years, it has been done by the agency that prepares food for thousands of people and help the needy.
Before setting up his NGO, Manoj Jain was also the President of 'Tarun Mitra Council'. His father was also Chairman of this system established in 1975. Then Manoj ji got a chance to work there as a member. Three times, the chairman of this system, Manoj Jain is his vice-president these days. The purpose of the Tarun Mitra Council is to bring the richness to the lives of the needy and help them with all the convenience.
He is also the senior representative of the Shraddha Council made in Hajastnapur of Uttar Pradesh. The center, which has 60 rooms with modern amenities, was built for old age people but as it was not approved, it is now being used as a training center, yoga, and meditation center for the youth community.
The full-fledged family of Manoj Ji if filled with his father, his mother, wife, and three daughters. While traversing the seven-year journey of cooperation, it feels that it is galloping on the purpose it was founded.
On the first historical win of Modi Ji as Prime Minister, Modi Tea Stalls were made on Ashoka Road which served around 30,000 people was also organized by Manoj Ji.
A person who is engaged in social work does not like to appear on the page three parties and, therefore they do not even promote their work as well.
Coming from a successful family makes every single individual think how Manoj ji is very friendly in nature towards poor, migrants, and helpless people. According to him, he has seen his father struggle and be in this position and his grandfather was a railway attendant during the time of the English rule.
After retiring from Tau Venkateshwara College as Vice-Principal, Chacha's made the first TV in the name of TV 'Deltron TV'. All of them achieved work with a lot of hard work in life. Talking about their achievements and experience, he says there should not be any single opportunity to be misused when it comes to helping someone in need. Manoj Ji got this to learn from his father and he is following in his footsteps.
Manoj ji's father started the wallpaper business in 1975, noting that his son would recognize it as modern in keeping with the demands of time and pioneered it in the country. The first plot of this industry came in 1988 in Shahira and in 1994, it was shifted to Patpad Ganj Industrial Area.
He achieved great success in moving his company ULTRAWALLS to foreign lands and giving his brand a distinct identity in the eyes of the experts.
The man, who starts his day before the sun rises, says that countries like China and Korea are well ahead of us when it comes to time. This is the reason why he reaches before the rest of his staff before 8.30 and cover most of the work. In this way, he lives a disciplined and organized life, which allows him to have time for social work as well.
Whether it's a natural disaster or an epidemic, he started to reach the ones who were affected at a very young age in his life.
When there was an earthquake in Gujrat, he says how he reached here with the help of friends and helped the one in need in different ways.  In Ekta Nagar, Raapad, he purchased land so that the people can have a shed over their head to stay.  He got all the required funds of crores from Delhi itself. There were four primary centers that helped this project become a huge success.
When the corona epidemic affected people, Manoj ji did all to share rations, food, and relief supplies on behalf of the cooperation system and never took credit for it. He did not get his picture done in any social media post nor in any TV or newspaper news for this work. His work began to supply food among the 400 people affected by Corona, and with time, he continued to do the noble work of around 1200 people. In this project of 'Sahogya Delhi',  people of Bikaner also came forward to help and exclusively make this project a huge success!
When the Aayush State Center described Arsenic Album 30 as a helpful element in the fight against Corona, then more than 6500 of it was distributed. At the request of the Delhi Center DCP, 2000 more of it was also provided to their office which was distributed in the police station of the Central District.
Manoj Ji, the one who has helped every segment of people during the time of their need also played a huge role to clear the Yamuna Pusht from Rajghat to Vijay ghat the. Being inspired of the family's culture and learning from the elders for social work, he has remained constantly connected to many similar works all thought out.
The historical event in Rahgiri also tell the story of their social concern in which about 25,000 people took part. They are always involved in activities such as wedding arrangements for the neediest, sealing, arranging public interest, facilitating students' scholarships, sports competitions, and more.
He also raised voice when the road to Mero station built near Delhi Gate was asked to move towards Ambedkar Stadium. As a result of this, provision has been made to dig the route of Mero Station at the end of the new station. He has also tried to organize and facilitate toilets for women in the local markets, but due to lack of understanding of the concerned officials properly, no efforts have been made to take this forward. He is still trying to get a better outcome out of it.
His commendable, social and practical works have had a positive impact on many lives like the holding of free medical assessments, helping the specially-abled individuals with their needs, Single-Use Plastic Campaign, Conducting health test camps for elderly and pregnant women, organizing Yoga camps, Hepatitis-B vigilance campaign, Vaccination at affordable rates, distribution of relief material in flood-affected regions, helping people with clothes and blankets during the time of winter.
Social work at a constant and large scale may come as a challenge to many but for Manoj Ji it is completely different. He lives through it and while doing so he feels alive!
Providing social support, being an influential person on social media, and willing to visit pilgrimage places, the one who has such hobbies will always love to help people in need. And this is what motivates Manoj Ji to keep on working for the needy and this is his ultimate dream.
Speaking of his dreams and future, he says that if the coming generations know me as a social worker and admirer, he will be honored to avail this tag.
This servant is always willing to get many more opportunities to help the ones in need and will continue to do the same for the rest of his life.